Please see below for the SLIDE SHOW information.

We have provided this page for any photos from high school or any of the reunions. PLEASE help contribute to these photo galleries by e-mailing us any pictures from your personal collection. Please include a description of who's in the picture, etc.

NEW PHOTOS TO BE POSTED SOON.
KEEP CHECKING BACK

Check out the class photo that we took in '84. Can you find where you were sitting?

Also, if you have a current photo, we will post it with your senior picture for display in our "Then and Now" photo gallery! We will scan your senior picture if you provide the current shot.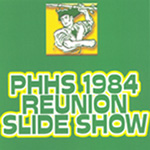 SLIDE SHOW FOR SALE
The Slide Show shown at the 20 year reunion and the new Slide Show from the 20 Year Reunion Weekend is for sale. We have put together a new Slide Show of the Pictures from the Reunion Weekend. For more information, please see Reunion Info Page

Please

e-mail your photos to PHHS1984@aol.com.